The Lea Valley Corridor is a small area of Great Britain with a big history. The Lea Valley Corridor stretches from beyond Ware in the north to the river Thames in the south. Most industrial history students should be able to tell you where the Industrial Revolution began; however, very few would know the birthplace of the post-industrial and technological revolution. Indeed, even today, very few residents who live within the Lea Valley, and even Britain's leading historians, are not aware of its important industrial heritage and past technological triumphs, many of which are of world significance.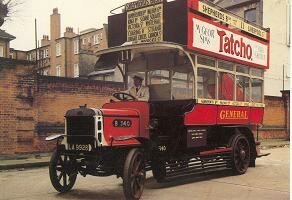 B Type Bus built in Walthamstow (courtesy London Transport Museum)
Over the past two centuries the Lea Valley Corridor was once a place of invention and innovation, now sadly forgotten. The above sections describe briefly some of the many transport and industrial achievements of the area, since the early 1800's. Once fully developed the the Pump House Steam & Transport Museum will interpret these in more detail as well as enabling visitors to experience many original artifacts and reconstructions.
We hope this website will encourage the public at large to learn more about Britain's best kept secret and to visit the museum. Details of just some of the many one hundred industrial firsts of the Lea Valley are covered in this web site.